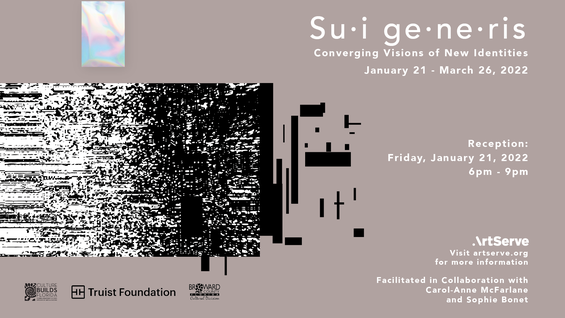 Social issues are driven by currents of cultural transitions. At the core of this project lays the desire to understand how contemporary structures mold and transform individual lives, gender, social power, and the ideologies of class systems. 
Inspired by the Latin expression that translates to "of its own kind", Sui Generis reveals shifting identities embedded in today's social and cultural environments.
Approach
An experimental and progressive curatorial approach was developed in collaboration with interdisciplinary artist, Carol-Anne McFarlane, where the theory of intersectionality serves as paramount for advancing social awareness, inspiring solidarity on a trans-cultural, trans-generational, and trans-disciplinary level. 
A heterogeneous group of artists was invited to reclaim space, freely, without censure, presenting a wide range of multidisciplinary expressions of identity and sociopolitical discourse. Touching upon politics, migration, belief systems, self-analysis, and self-preservation, here the viewer is invited to reflect on ever-changing society, prompting questions of "who determines what is normal?", "how do we establish new value systems?" and "how do we move from analysis into action?".
 About ArtServe
Named a "2020 Top-Rated Nonprofit" by GreatNonprofits, the leading provider of user reviews of charities and nonprofits, Fort Lauderdale-based ArtServe is an award-winning arts incubator that is advancing the arts for social good as a creative laboratory and hub for experimental artists committed to diversity, equity, and inclusion. Now in its 33rd year, ArtServe has won several awards for innovation in the arts and is supported in part by the Broward County Board of County Commissioners as recommended by the Broward Cultural Council and Florida's Department of State and the Division of Cultural Affairs. Each year, ArtServe programs contribute tangibly to the region's economy, helping 2,000+ artists advance their practices, build businesses and engage the community.