I attended the RedLight Show last night. The opening was from 7-10 at the 1310 Gallery.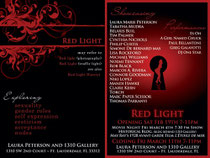 The opening was from 7-10 at the 1310 Gallery. The show was about erotic art and exploring sexual boundaries. There were a lot of photographs in the show and few sculptures and paintings.
The Burlesque show started at 9pm. It was really interesting. After the burlesque show, there were live musical performances. Since I arrived just as the performances began, I was not able to see the work. During the live musica performances, I browsed the gallery and looked at the work presented. I thought much of the work was not pornagraphic.
One of the most interesting pieces was a series of photos of drag queens. The photos were printed on tranparencies and mounted on plexiglass and suspended away from the wall. The light passed through the images and the shadows cast upon the white wall created a black and white version of the photograph. It was an interesting idea that I think the artist could have pushed to another level, leveraging the cast shadows.
Overall, I think that it was a good show.