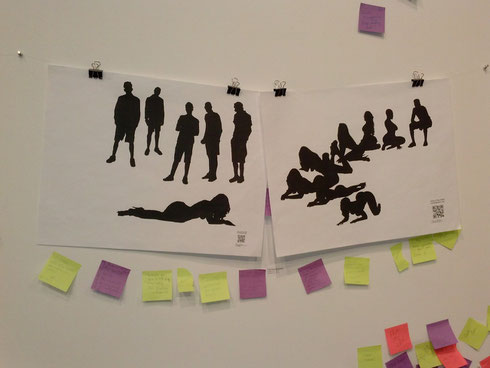 I participated the one-night show at the Girl's Club in Fort Lauderdale. I had two prints, 24" x 18", of new work. My intention was to get public feedback on this new work.
The yellow Post-Its that you see, are from artists. The purple ones are from judges.
Here are the comments in no specific order:
Yellow
-These are so nice Carol
-I definitely see progress in your work love it.
-✓  (Yes, a check mark, just a checkmark)
-Nice to see your work in person finally I love it !!  -Marcos
-POWERFUL STATEMENT ON GENDER ROLES
-✓ (Another check mark)
-This is an outrage the way you portray women
-HI CAROL, [WE'RE] WALL MATES! NICE WORK AS USUAL! ⟵AC.
Purple
-JH nice new twist on this imagery
-"About the Artist" too bold! Prints for, "Maxim" perhaps too sexist for me.... The work with the men could use better design! PG
-CP would like to see better paper used - particularly for one ground - 100% rag. more textured perhaps buff color
- I done like your Artist's stamp being so prominant. Better paper. What are you adding to this conversation? AB
What are your thoughts on these comments? Do you agree? Share your comments with me below.